Today, on behalf of 58 international fans of John Norman, we have send John Norman's Birthday Card 2010 to Mr. Richard Curtis, John Norman's literary agent, with a request to make sure that the card is delivered on June 3rd, 2010, Mr. Norman's 79th birthday.

This is a small picture of the card we've send: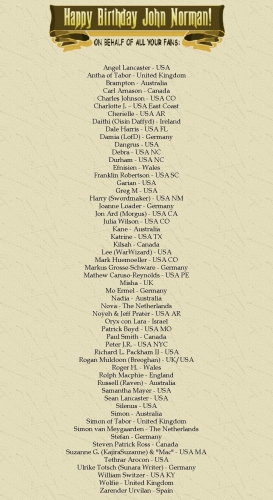 For those fans who'd like to have a personal copy, the final version of John Norman's Birthday Card 2010 is publicly available in our Download Section (
here
).
Fifty-eight signatures are on the card, fans from the United States, Canada, Australia, England, Ireland, Wales, Germany, Spain, Israel and The Netherlands, a truly international homage to a muchly misunderstood and neglected storyteller.
May he live long and prosper!